The story of Lumír Kunz: From Bloodsport to leading Aukro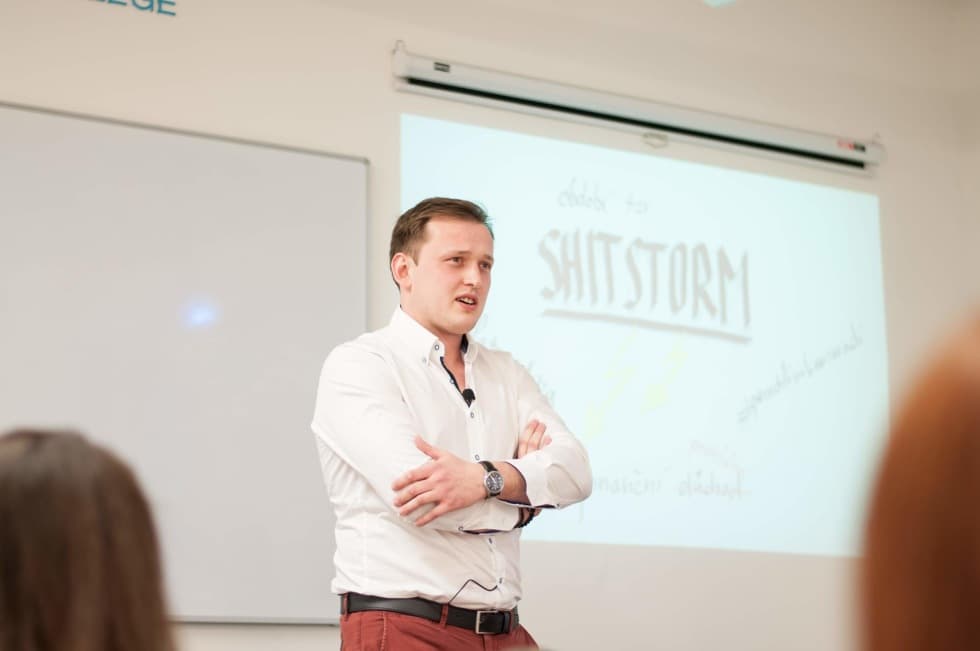 NEWTON College invited former student Lumír Kunz to give a lecture, which he poetically named 'I'd Rather Burn Up Than Fade Away'. Since Lumír walked out the NEWTON gate for the last time, he has come a long way
, even becoming the CEO of Aukro. At his lecture, he told the students his story, and we've chosen some of the most interesting moments for you.
Lumír's business journey literally began when he was still 8 years old. Secretly at home, he watched the film Bloodsport with Jean-Claude Van Damme, throwing his fists into the air, wanting to be like him. Although he didn't become an action hero, Van Damme did motivate him to sign up for Taekwon-Do, where he met his future business partners.
When Lumír was 14, his mom came to him with a book in her hands and said: "You will read this book." It was the book Rich Dad, Poor Dad and it was here that Lumír first became familiar with business and passive income. The topic spoke to Lumír, even though he never liked reading. He then told his friends about the book, and two of them – brothers Honza and Matěj Boruta – told Lumír that they also wanted to do business.
Together they began reading other books about business and waited until they turned 18 so they could make their mark on the world. At the age of 18, Lumír met with David Kašper, who was a student at NEWTON College and now yet another successful graduate of Psychology for Managers. David confided in Lumír that he had a business plan for a company that would deal with trading on the forex exchange and that he was looking for investors. David presented his entire ten-page business plan to Lumír and his friends, and they agreed right at the table that they were at.
Without mum, this empire would never be
To get things started, a capital of several million crowns was needed. Honza and Matěj had this at their disposal, but Lumír had to ask his family. Convincing his mother took more than 150 days, but she got on board in the end. And so, Lumír and his friends became part of the brokerage group Axiory. They sold their forex strategy and saw great results right from the start. They earned a lot of money and decided that they wanted to do business in the education system.
They created the project Inspiron, which was meant to connect students with successful people around the world and compel them to start their own businesses. When preparing the project, however, because of his overly ambitious plan, they made a lot of mistakes. For example, Lumír recalls with a smile how they needlessly attempted to receive a trademark in North Korea. Developing the project took two and a half years, they lost a lot of money, and, in the end, had to stop.
At that time, Lumír and his colleagues also invested in the taxi service Liftago. Here they found themselves in an unpleasant situation as they had sunk a lot of money in Inspiron and knew the money they invested in Liftago wouldn't be making returns any time soon. Then Axiory also began suffering from money problems. They weren't able to sell their forex strategies and they didn't have enough to pay wages. Lumír was 21 and he was tens of millions of crowns in debt. He didn't have a job, had no way to pay back what he owed, and had to borrow money for food.
Aukro came into the picture
Salvation came in the form of Václav Liška, the founder of Aukro, whom Lumír knew from Taekwon-do. Václav offered Lumír a job in localising the Polish online exchange service Valutomat for the Czech market. Lumír was incredibly successful in this project and he retained his work when he received a license from the Czech National Bank to implement Valutomat in the Czech Republic. Among other things, he found this success thanks to his educator Vladimír Tomšík at NEWTON College, who is the Lieutenant Governor of the Czech National Bank. His skills and know-how significantly helped Lumír in receiving the license.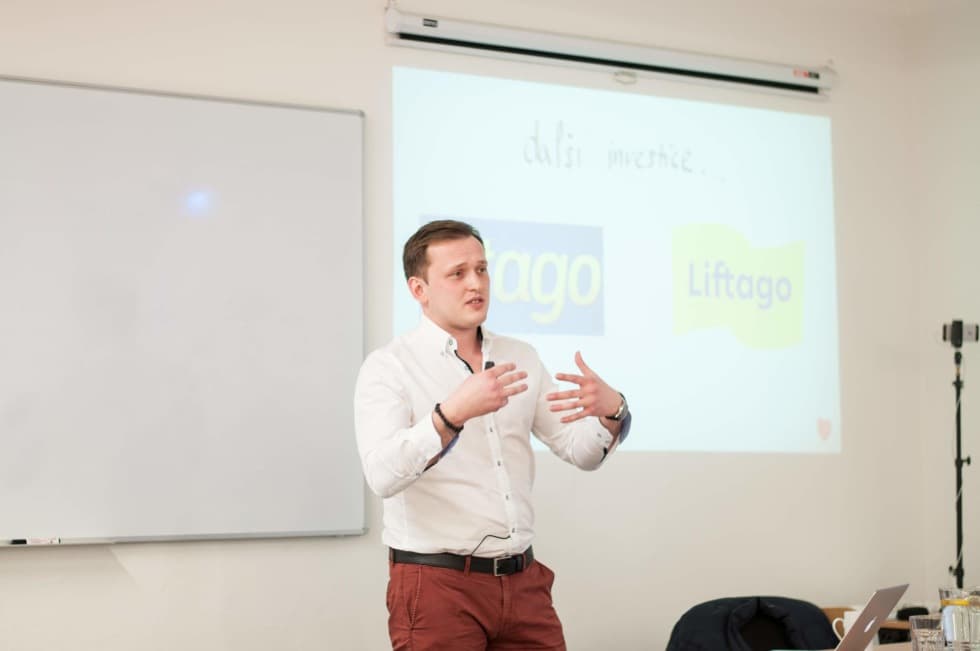 As soon as his financial stability returned, Lumír invested in the project StřelTo!, which soon became part of Aukro. Lumír thus gained the first percentage in the share of Aukro's profit. In the meantime, together with Václav Liška, he founded the investment fund Leverage Technology, thanks to which he was able to gradually buy Aukro shares until he became the managing director.
Lumír set the goal to get Aukro back on its feet within 5 years by covering 10% of the share in the e-commerce market. "Last year, Aukro celebrated its 15-year anniversary and it has a great story full of ups and downs," says Lumír. He prepared a revision of Aukro's strategy and engaged in interviews with employees who have worked at Aukro for over 10 years to gain a better insight into the company's background. He put all the information into the numbers and development of KPIs (key performance indicators) from the days of the previous managers and was able to identify the correct and incorrect decisions made in the company's history.
Then followed in-depth interviews with users who had stopped using Aukro a long time ago. For instance, Lumír spoke of a man who sold model trains and his dream train managed to slip away from him simply because he spilled tea on his keyboard right before the auction ended. At that moment, Lumír realised that Aukro is about millions of fascinating stories that the users experience thanks to the website. And he believes that with this new discovery, he is starting a new era for Aukro.
A few words in closing
At the end of the lecture, Lumír summarized some advice that he wanted to pass on to future entrepreneurs:
Extra miles. When your counterpart expects something, always give them something extra. In this way, Axiory became a favourite among foreign partners.
Hit the gas at the right time. If you come across an opportunity that is bigger than yourself, consider it. You will have to borrow at an interest rate of 5 to 10%, and if the business is successful, it will grow thousands of percent. All you have to do is repay the loan and the business stays with you. You can lose a lot, but there's also a lot to gain.
Watch out for "dream crushers". Most people will tell you why your plans aren't going to work out. When Lumír went to some of his friends with a book from his mom, they all laughed at him. Until two boys came along who supported him and followed his dream alongside him.
Look for people with a similar passion as your own. If you surround yourself with them, you'll increase your chances of success. Two people will then do the job of three or more. This is why Lumír is interested in his team and ensures they're all striving for the same goal.
Read the other questions the students had for Lumír at the end of his lecture.