4 basic reasons why your BSc. at NEWTON will prepare you well for life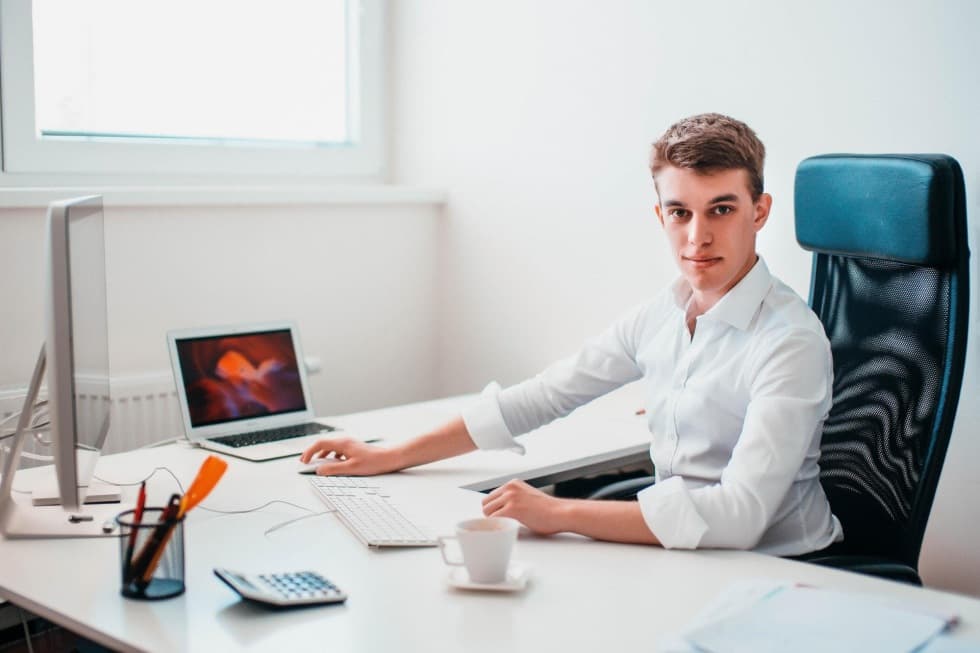 Teaching students useful and practical knowledge is principle #1 at NEWTON College. Read what the students who transferred to NEWTON from other universities, as well as graduates, think about their education.
1. Experienced experts are your teachers
At NEWTON, you'll be taught by people who already have a successful professional career. Their knowledge comes from experience and they teach their students based on practical examples from their own lives.
Thus, the students don't see their studies only as an obligation but as something that has real benefits that motivate them to attend lectures because even there they can constantly learn interesting and, most importantly, useful things: "I now see going to school as an opportunity to learn something new, not as an obligation that I simply have to fulfil," says Barbora Červenková, who came to NEWTON from another university.
Student Barbora Juchová saw things the same, so she also transferred from a different school: "The educators are very helpful, their knowledge and experience from the field are what can truly help us the most in the future."
And these students' feelings are affirmed by one of the most successful graduates from NEWTON and CEO of Purple Holding David Kašper: "During my studies, as well as outside of them, I practically received business consultations for free. That's simply an irreplaceable benefit of studying at NEWTON. For instance, Jirka Koleňák was incredibly important for my business right from the very start. He helped me solve problems that I ran into and even connected me with people that could help.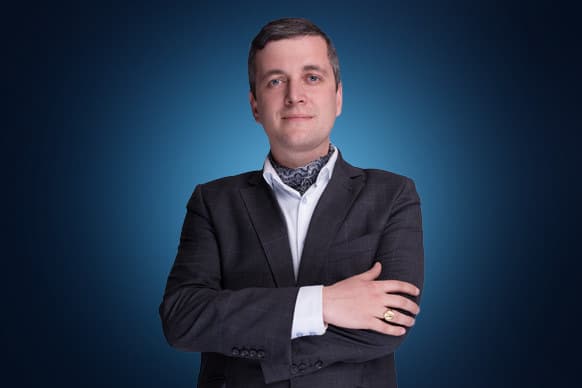 Jan Řezáč, for example, teaches at NEWTON. He published the first book about web creation in Czech and founded the marketing agency House of Řezáč, which brings order to chaotic websites.
2. Studying theory is unavoidable, however, most of your time will be spent learning practical knowledge and skills
At NEWTON College, part of your learning can be so-called "personal orders". The teacher will discuss the necessary foundation but will then dedicate time to topics the students are actively suggesting. They draw from their own past experiences. According to NEWTON's marketing manager Michal Stružka, exactly these types of discussions are the most beneficial.
Tomáš Dupal transferred to NEWTON from a public university due to the incredibly boring lectures held there where the educators would summarise thousands of facts from the theory of marketing, without ever supporting them with actual work experience. "For me, it was a waste of time. I feel good in saying that out of the 150 people that sat in the same classroom as me, about 90% of them felt the class was uninteresting, boring, and pointless. I'm grateful I was able to do something about it," confides Tomáš, who no longer attends school with the feeling he's wasting time.

Marek Musil also found himself in a similar situation at his previous school: "I didn't have the right motivation to continue there. I think mainly the educators are responsible for this, as they constantly prioritised learning theory over critical thinking and practical skills."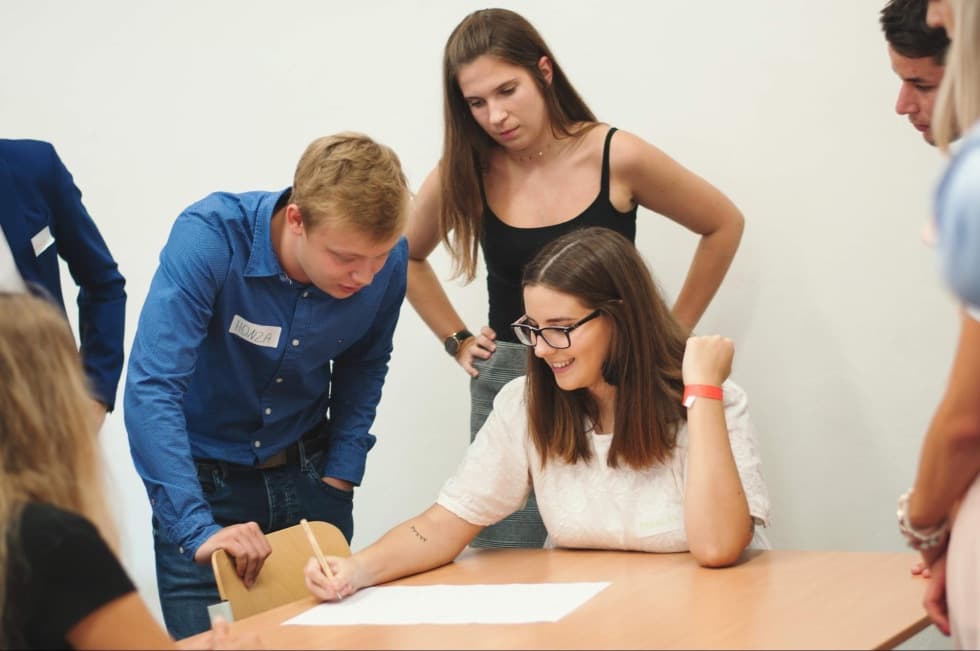 Learning at NEWTON is full of practical examples and discussions.
3. You can easily work while you study
At NEWTON, the educators motivate their students to apply what they've learned as soon as possible. They also cater the study plan to their needs.
"We're proud of how the students manage to combine studying with their professional lives. When making the schedules, we take into account the fact that the students need space for internships or work so they can then pay their tuition. This also prepares them well for their work lives and, for us here at NEWTON, it's simply principle," says the internship coordinator from the Prague branch, Ondřej Benda.
Marek Musil really appreciated this approach: "At the university I transferred from, I had to keep learning at home and prepare myself for the lessons. I had zero time for work. Now I have three jobs and I can manage everything, even with going to school full-time. I think flexibility is one of the most important benefits of studying at NEWTON."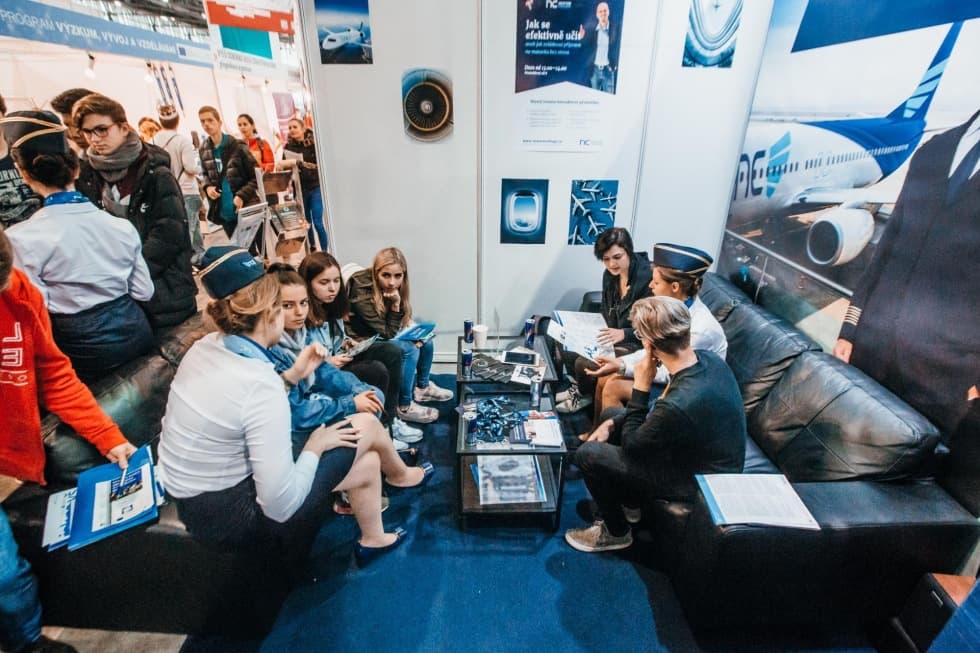 You can gain internship experience under the NEWTON College wing in places such as the marketing department, or you can shadow a successful manager from one of our partner companies for several weeks, learn how they work, and learn from them.
Ondřej Machač, who also came to NEWTON from another school, says his entire life got flipped around: "Much more often now I participate in school activities, and NEWTON enables me to work while studying, so I'm gaining experience on various projects and able to pay for school with the money I earn. This approach is ideal because even my price on the labour market is growing."
The option to gain experience while at school by filling various job positions really helped Lucie Avkovská, for example, who graduated the professionally-oriented Marketing and Brand Management. "Right from your first semester, you'll get an internship, meaning you can try a bunch of stuff before you even finish school. After you graduate, you'll have a much better idea of how you want to earn a living, and you won't waste time at jobs that aren't right for you. Thanks to this process, I can now say I'm doing what I actually enjoy," says Lucie, who works as a beauty consultant at Notino.
4. Develop yourself professionally and personally
Apart from hard skills, students at NEWTON also develop soft skills. For instance, they learn how to present, how to be a good leader, and they spend time on self-knowledge.
Graduate David Kašper says that NEWTON College was amazing at pushing him forward both in a business and personal sense. "In psychology with Eva Ambrozová and Vratislav Pokorný, we did a bunch of psychological tests, got to know ourselves, attended lessons on philosophy… It really gave me so much because it came at the right time when you yourself are still evolving. Uncover your strengths and weaknesses, figure out who you are – only then can you lead others," says David, adding that it was also important for him to hear from Jiří Koleňák that he doesn't need to be an expert at everything.
Graduate Nela Mačáková, who now works as the headhunter for the company CoolPeople, feels the same way: "Out of everything, NEWTON helped me the most in completing myself as a person. Thanks to NEWTON, I knew what I did and didn't want, what I should focus on, and where my strengths are. Then I had the great advantage in selection procedures because the HR officers recognised that I was different, more mature, that I know how to give presentations, and wasn't afraid to communicate or take the lead."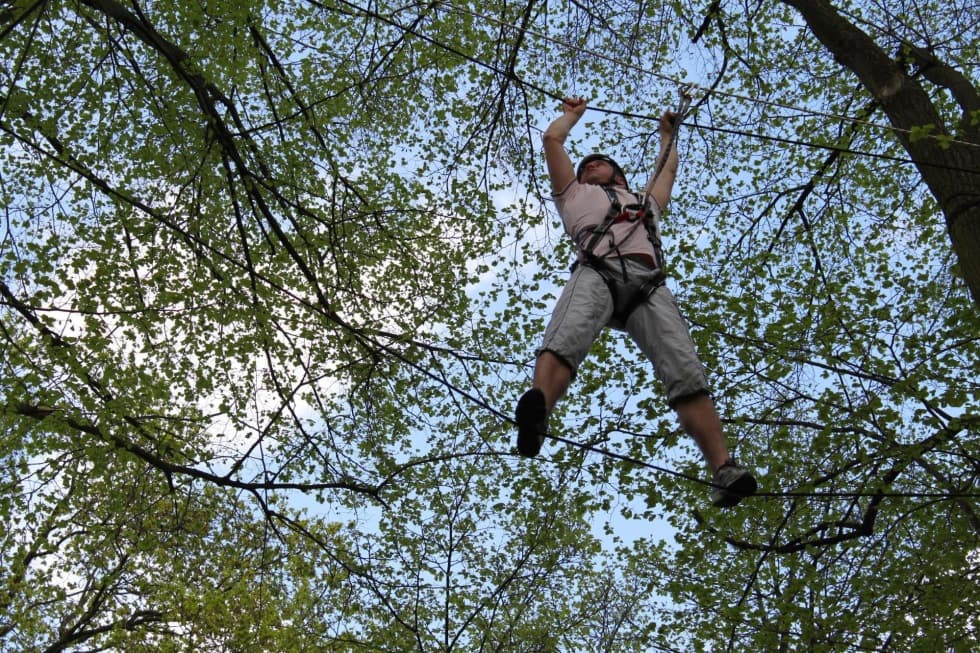 At the X-tream management course, you'll go far outside your comfort zone and discover your strengths and weaknesses.