Students Michael Topinka and Šimon Weiss make T-shirts that are reminiscent of Czech history
Friends Michael Topinka and Šimon Weiss study Marketing and Brand Management at NEWTON College in Prague. Even though they're only second-years, they've launched an ambitious project: Producing T-shirts that resemble significant moments from Czech history. They want to help society never forget.
The project Wear the Past was launched by two friends from NEWTON College in Prague literally at the eleventh hour. They wanted to get involved socially but had no real idea about how to do it. When a large demonstration was planned on Letná hill, they took this as a sign to start.
They quickly created a brand, a design, and printed a bunch of T-shirts that they then sold on location. "Letná was a big test for us. With zero sales experience, we found ourselves in a large crowd of people," recalls one of the founders, Michael Topinka. They were, however, successful that day and are now further expanding their brand. And the thing most responsible for their success is the unique approach of their T-shirts.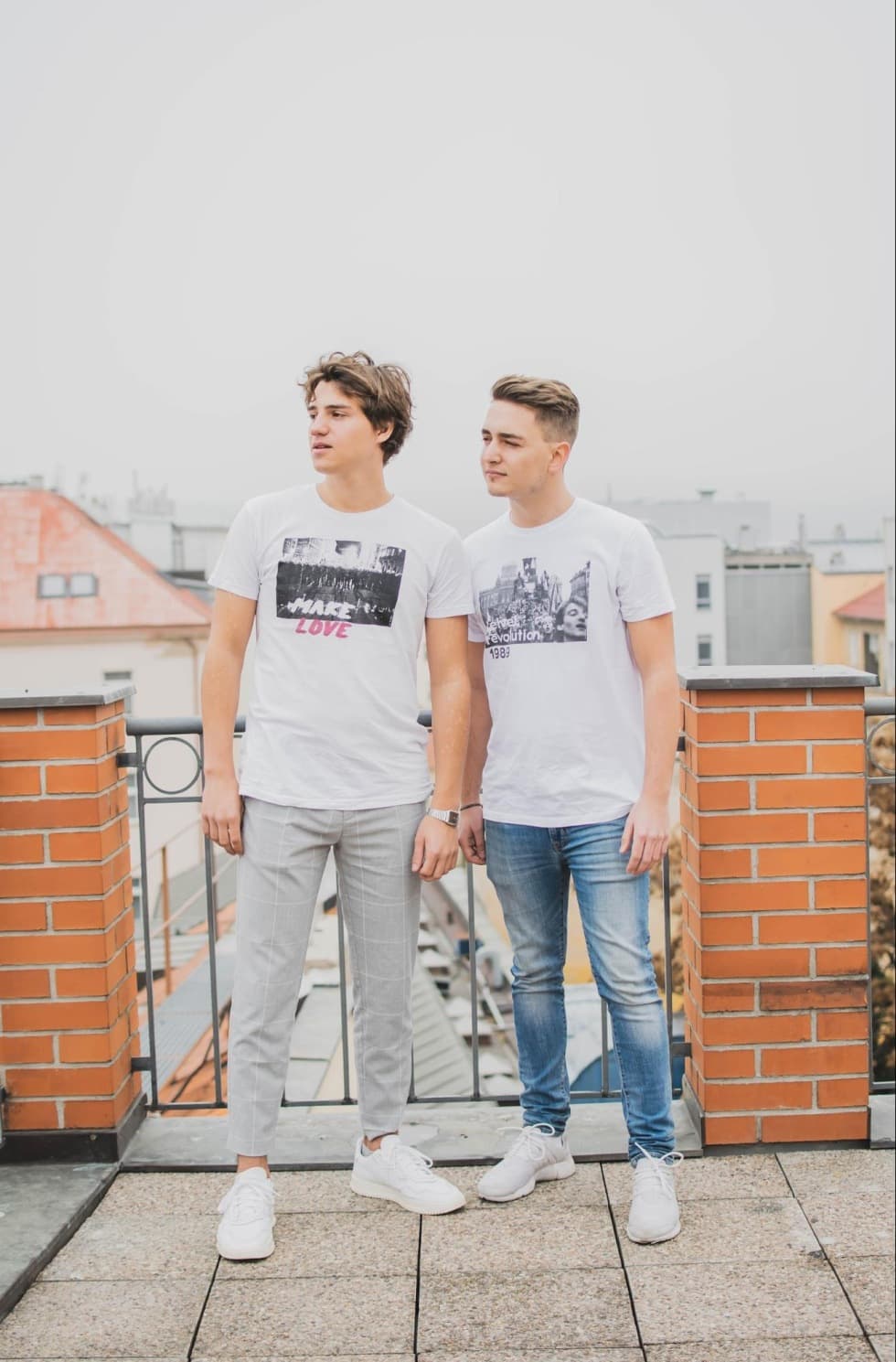 The guys aren't afraid to go for it. Not even when having their pictures taken while posing in their T-shirts on a frost-covered terrace.
The USP of the brand: T-shirts that educate our generation about Czech history
As the brand name makes obvious, the T-shirts implement motifs from Czech history. The lads only added some modern dimensions. Šimon Weiss, who designed the T-shirts, has this to say: "People appreciate that this isn't just about fashion but that they're also supporting the country. They commemorate important events."
Plus, all the T-shirts have a special function. They don't only serve as clothing but also as self-expression. The two utilise this fact to educate their peers. "When I see my friend is interested in something, and he's wearing it on his shirt, then I look into it to find out something for myself," states Šimon.
To push this education even further, they decided to use part of the money from their sales to support non-profit projects dedicated to history. "Even from the beginning, it made sense to us to not only make T-shirts but to also provide help. We started by supporting A Million Moments for Democracy. Since then, we've moved forward, and our goal is to remind people of the past. To this end, we chose to support the project Festival svobody (The Festival of Freedom), which has this direct focus," says Michael with a smile.
Remembering the past even made it right into the brand's slogan: We won't forget. Michael explains exactly why they chose this slogan: "If you ask me, it's really easy to forget our history. For the future, however, we have to learn from the past."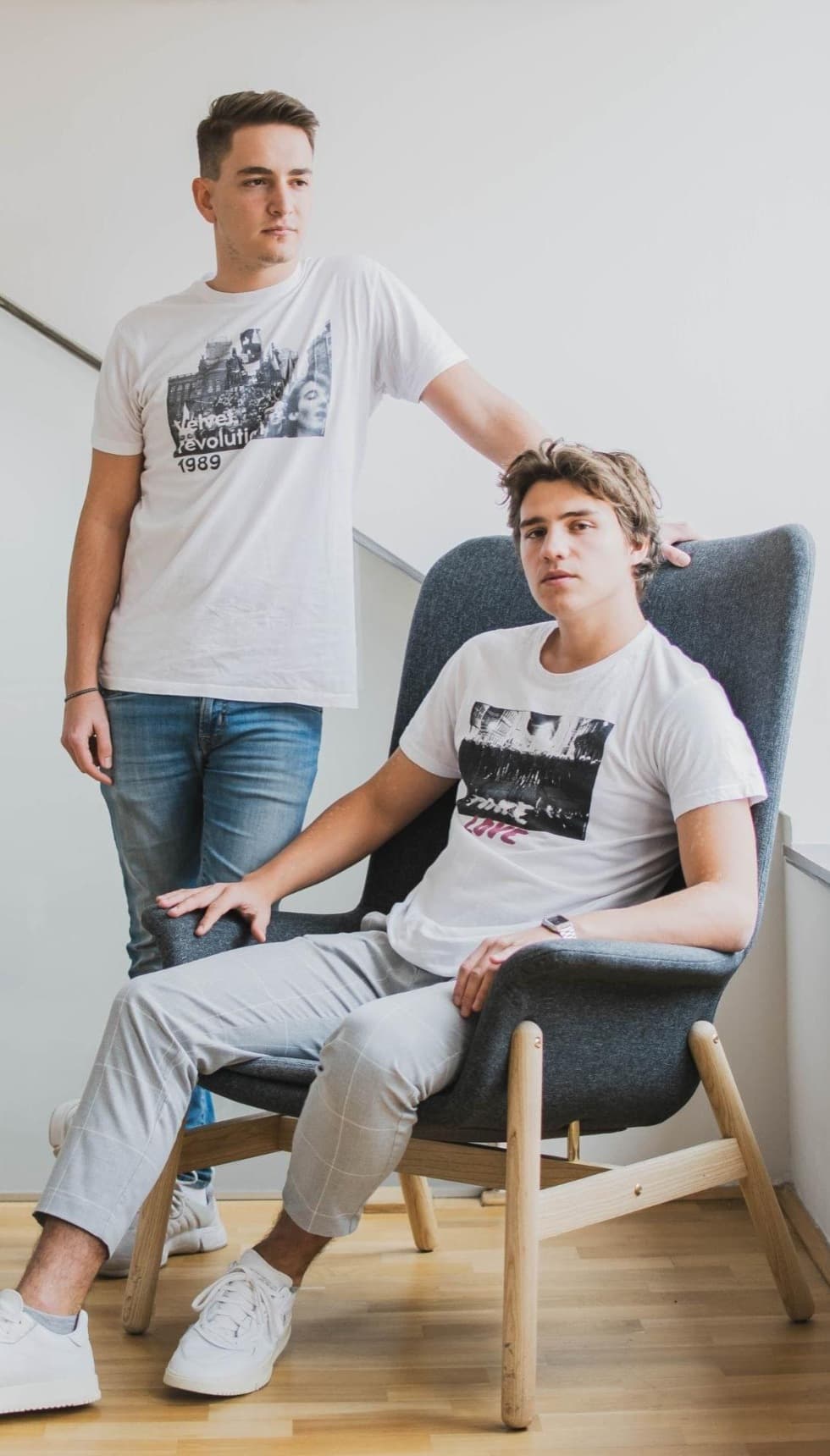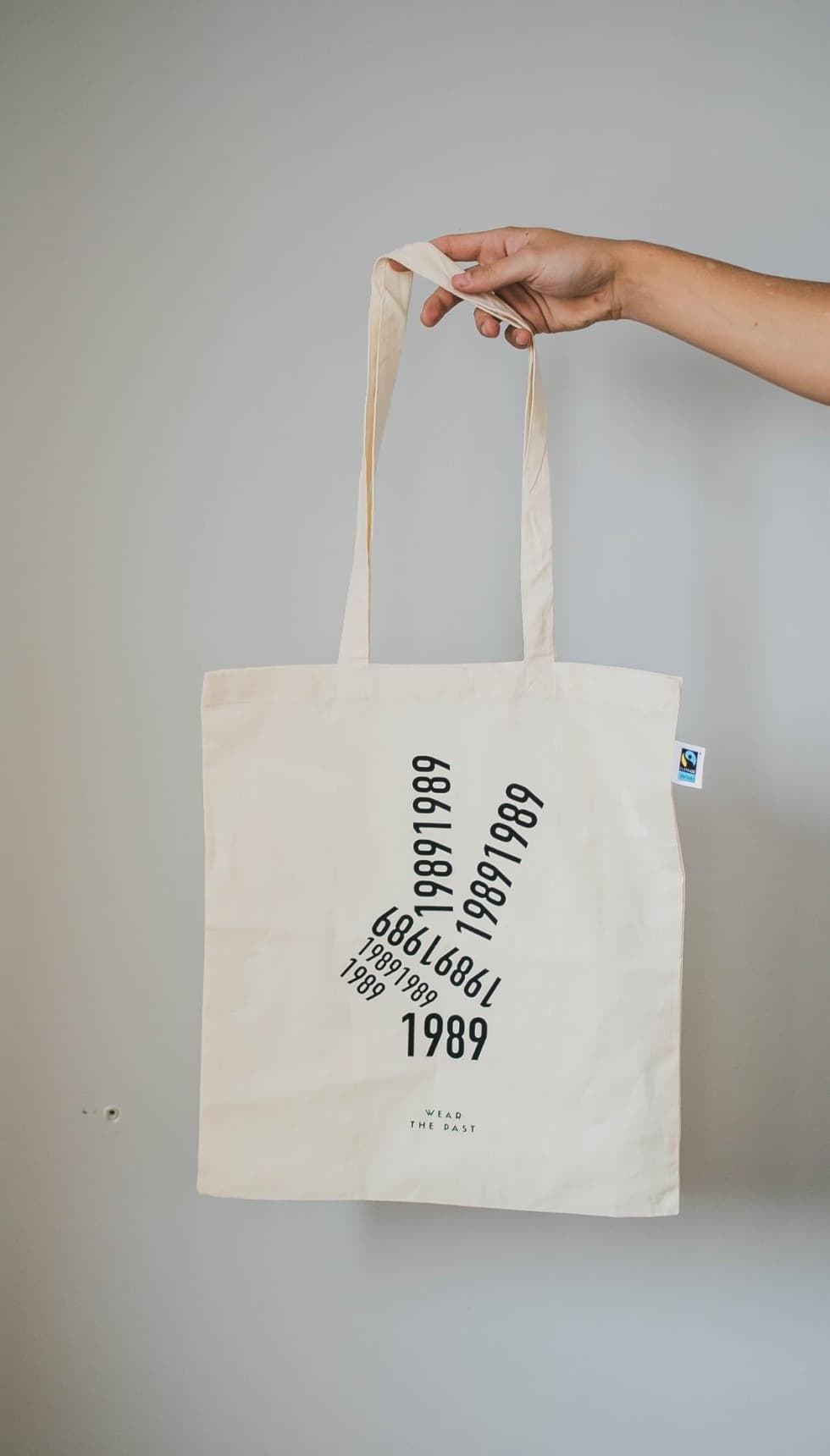 When someone wants to remind young people of history, it has to be done timelessly. To do so, Czech realities written in English can help, for example.
Some help from family in the beginning
Financing a new project isn't easy. Neither is getting oriented in accounting and other administration. Michael's dad helped them with the hardest of it, as he had always directed his son to be interested in society: "My dad owns a polygraph company, and our company is a sublabel to his. He believed in our project and it's great he offered to help. He provided us the money to get started, his company's facilities, and we also use his company equipment when printing the cloth bags.
The two partners value these advantages, however, others shouldn't feel discouraged if they don't have similar options available. "You just can't be afraid. If you've got a good idea and a good partner, you're capable of pretty much anything," motivates Šimon. He doesn't quite see their company as a way to generate money, however: "If I spent the same amount of time working at McDonald's, I would probably make more. We're happy making any money, but that's not why we do it. It's really about the idea.
By being honest, we gained support from YouTuber Kovy
Michael and Šimon didn't have to invest much in ways of advertising. They have an attractive project that others find interesting. "We wrote a bunch of influencers and other artists a truly honest email. And they liked it. Some of them have taken photos with the T-shirt, others have even wanted to buy it. Our greatest success was with Kovy, who filmed a video while wearing our shirt. Other than him, Hřebejk and Trojan also wear our stuff. They do it for free, and even though they don't write anything about us, people are able to find us on their own." They both bet on organic, or unpaid, reach because personal recommendations make the best advertisements.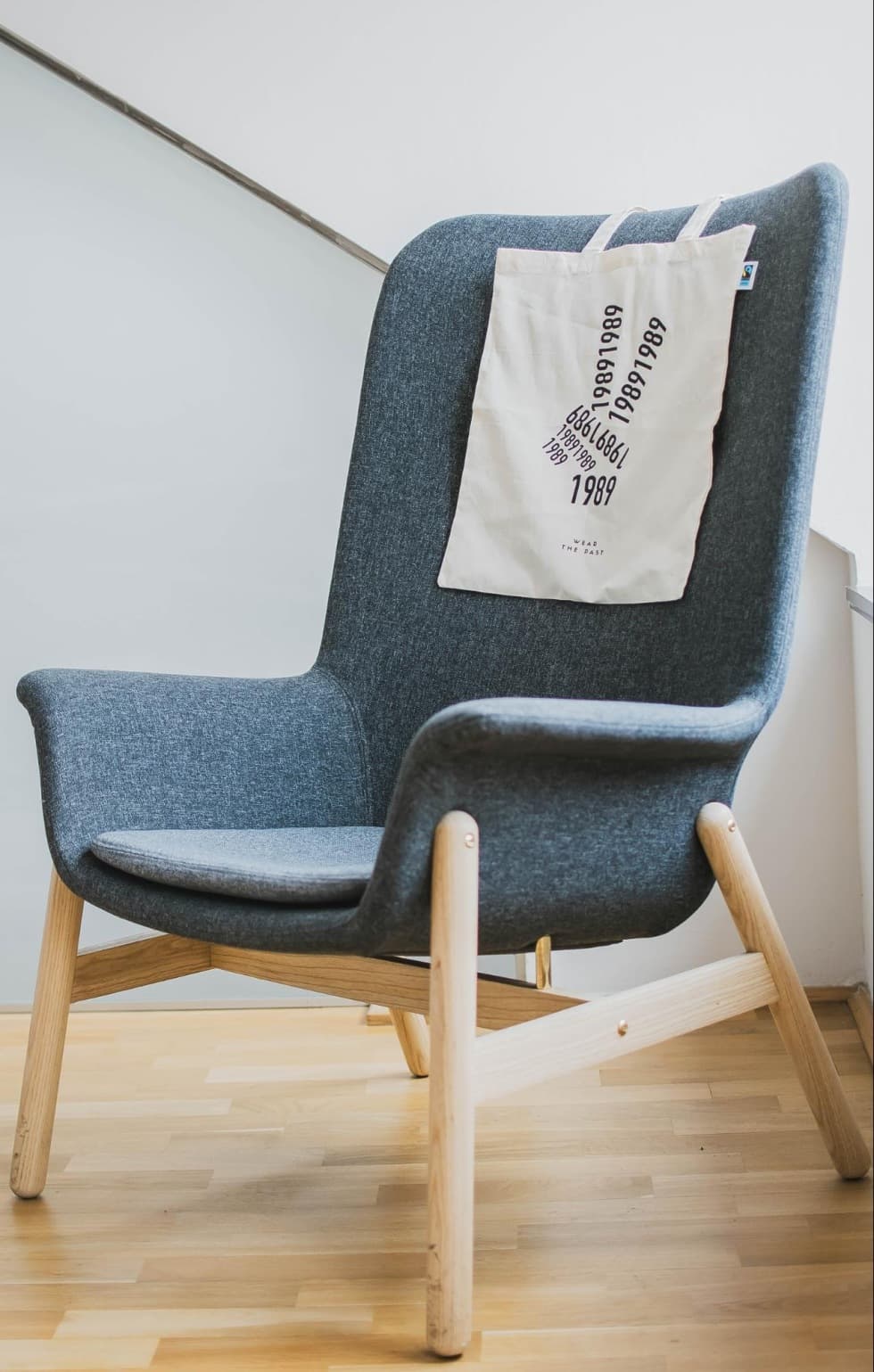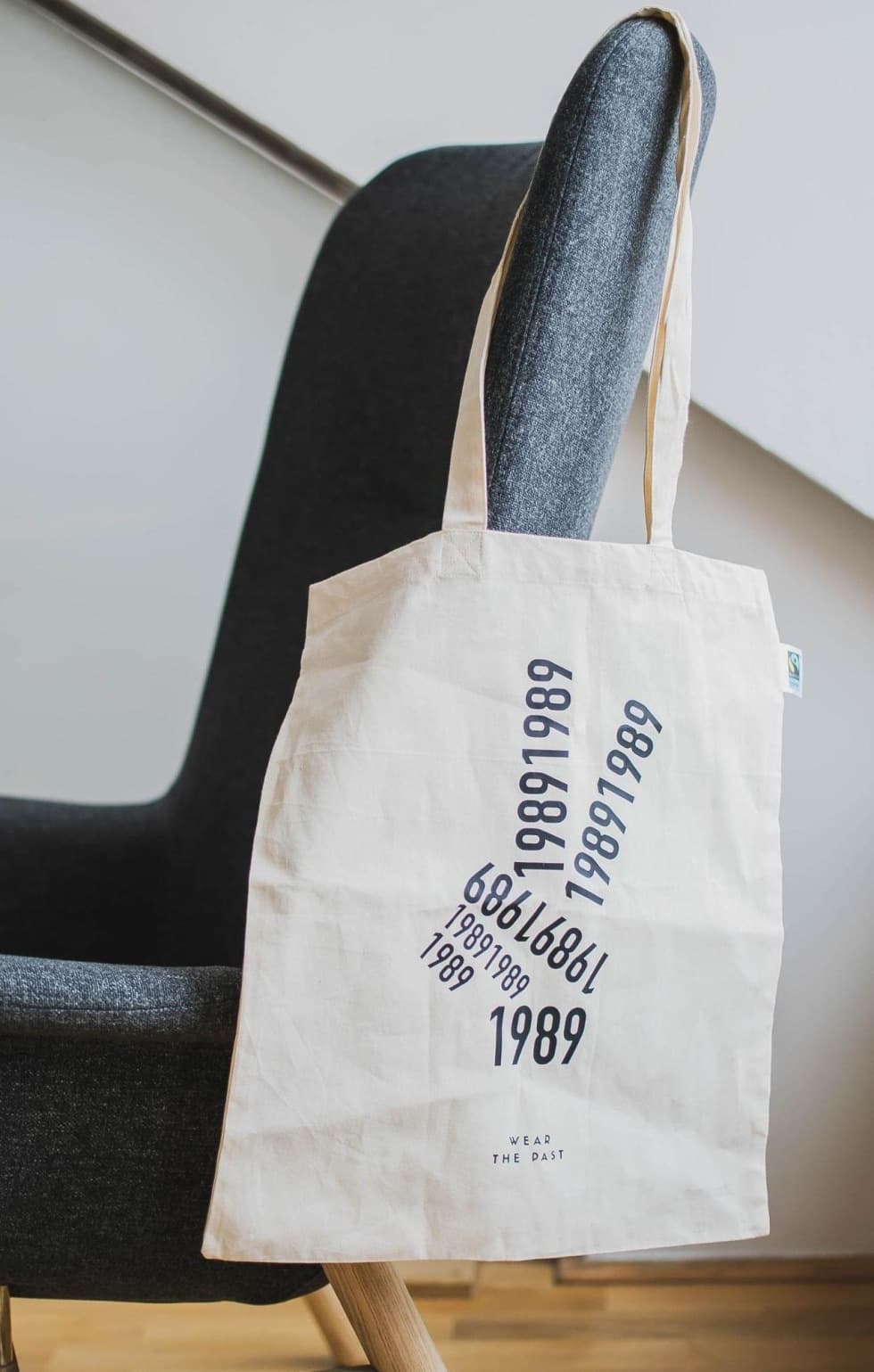 The guys chose canvas made of Fair Trade materials.
By launching their own project, Michael and Šimon are learning countless business skills right on the job. They're trying everything from Business Manager administration to setting up the Shoptet e-shop platform. They also receive support from their studies at NEWTON College. "While studying, we have the chance to focus on our own project. When we can, instead of dealing with imaginary projects during our lessons, we just directly discuss our company's issues," he appreciates. The two agree when it comes to their favourite subjects at school: brand management with Martin Přibyl, philosophy, and psychology for managers.
In the future, they plan to focus on different Czech milestones. Right now, however, they're mostly dedicated to the approaching holiday of November 17th. "We should be proud of November 17th, it brings society together," shares Michael. And Šimon adds: "We value the celebrations of the birth of the Czechoslovakian Republic, but the year 1989 is just closer to us in terms of time."
When asked by the Freedom Festival whether they would like to offer their T-shirts in the non-profit's stand right on the Day of the Struggle for Freedom and Democracy, the boys didn't hesitate. "We hope that there we'll be able to cultivate other discussions with people that are walking by," they add together, as affirmed by their brand vision.