Unlocking Global Opportunities: A Year in Review with NEWTON's International Team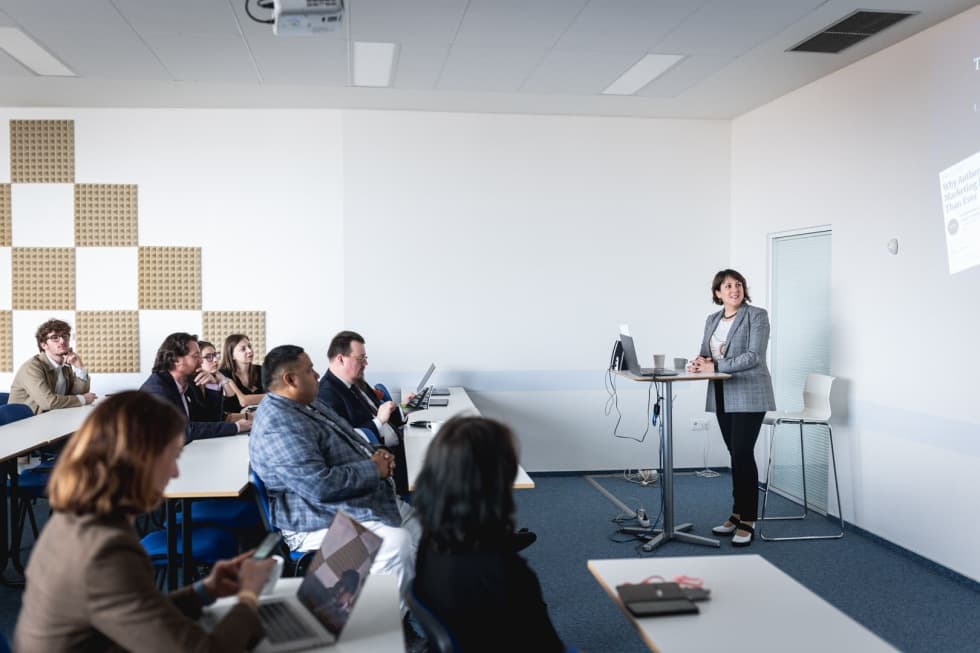 For NEWTON's International Office, the last academic year passed in a flurry of activity. From France to Taiwan, we've been hot on the trail of international opportunities, looking for the partners and platforms that'll help open the doors to new global prospects. As we look ahead to the 2023/24 academic year, it's time to reflect on everything we've done to broaden NEWTON's international horizons…
We began the 2022 academic year on a high note by participating in the annual European Association for International Education (EAIE) conference held in Barcelona. The event proved to be an excellent platform for networking, and we successfully formed a new partnership with the Universidad Diego Portales in Chile – a relationship that opens up exciting exchange opportunities for our students to study in Chile.
During the conference, we also met representatives from Study & Co, who offer a Digital Welcome Desk service. We have since become their clients, granting all our GMB students access to their valuable on-boarding services.
Additionally, we connected with the HYBRIA Institute of Business & Technologies and EKLYA School of Business, France, resulting in a mutually beneficial Erasmus exchange agreement. In the coming semester we'll be welcoming two French students, while also saying a temporary goodbye to two of our own as they travel to Lyon to diversify their educational experiences and indulge in the unique gastronomy of France's third-largest city.

For those not keen on relocating, our collaboration with HYBRIA and EKLYA includes an online option through the Online Exchange Project (OEP). This allows students to enjoy the benefits of cross-cultural learning, academic collaboration and international networking from the comfort of home. NEWTON has also formed OEP partnerships with Ritsumeikan University in Japan and the European University of Armenia, and there are still a few limited slots available – contact Athénaïs Surreau to submit your application today
Rounding off September, staff and students from NEWTON and the University of Wroclaw, Poland came together to take part in Xtream management training – the first ever held in English – to test their physical and psychological limits and emerge as stronger and more resilient leaders.
The next months passed in a blur of events, including close to home at the EduFestival and Gaudeamus, both in Prague, online at European Higher Education Fair in the Philippines, and rounding off with Poznan and Budapest. These events provided an invaluable opportunity to present the Global Business and Management programme to international students, creating more opportunities for international partnership and cultural exchange.
The onset of 2023 ushered in a fresh burst of activity. In February, Dr. Anna Plechatá Krausova, our Vice Chancellor for International Relations, participated in the Business Graduates Association (BGA) event in Berlin. There, she contributed to conversations surrounding the development of a flexible, global business degree. Starting this academic year, NEWTON University will become a BGA member, providing students with valuable resources like CV-enhancement services, job search tools, and skill assessments.
In March, Newton Research and Innovation Week took over campus, including the first ever annual Management and Social Science Congress. Centered on the theme of authenticity, the event welcomed several illustrious guests, including Dr Michael Biggs from the University of Oxford, who gave an informative and thought-provoking lecture that traced the sociological and intellectual history of the transgender movement – read our interview with him here.
Moving on to May, the emergence of the sun coincided with a visit from Professor Chih-Ping Chen and YuChing Hsieh from the College of Management at the University of Yuan Ze, Taiwan. During the visit, we discussed our ongoing and future research collaboration, as well as international exchanges. This visit followed on from NEWTON's participation in a trade delegation to Taiwan led by the Speaker of the Chamber of Deputies, Markéta Pekarová Adamová, back in March - find out more about that
here.
Later in the month, we were also fortunate enough to welcome Cristian Gallardo, the founder and CEO of the 'goLocal' group, to our campus, who shared with us the strategies and secrets of exploring emerging markets, particularly in South and Central America – find out more about his visit here.
During early June, we were pleased to learn that we have secured extra Erasmus+ funding to invite students from some of our newest partner institutions. Come next Spring semester, we expect to welcome two students each from Sidi Mohamed Ben Abdellah University in Morocco, Eurasia International University in Armenia, and Kolegji Universum in Kosovo to our academic community.
June also saw the Head of the International Relations Office, Athenaïs Surreau, chasing warmer weather in the Cote d'Azur, France. Luckily for NEWTON, she skipped the beach in favour of participating in Digital Week at the University Cote d'Azur, where she discussed the digitalisation of universities, as well as open science, digital markets, and virtual reality.

Looking back, 2022/23 has been a transformative period for NEWTON's internationalisation efforts. We've forged new academic partnerships, grown the GMB student body, made progress towards becoming a fully bilingual educational environment and also enriched our campus life by hosting a greater number of events in English, As we open the next academic year, we're excited to build on these achievements as we continue to make internationalisation a core focus at NEWTON, and introduce a wider array of opportunities that will allow our students to add an international dimension to both their academic journey and future professional careers.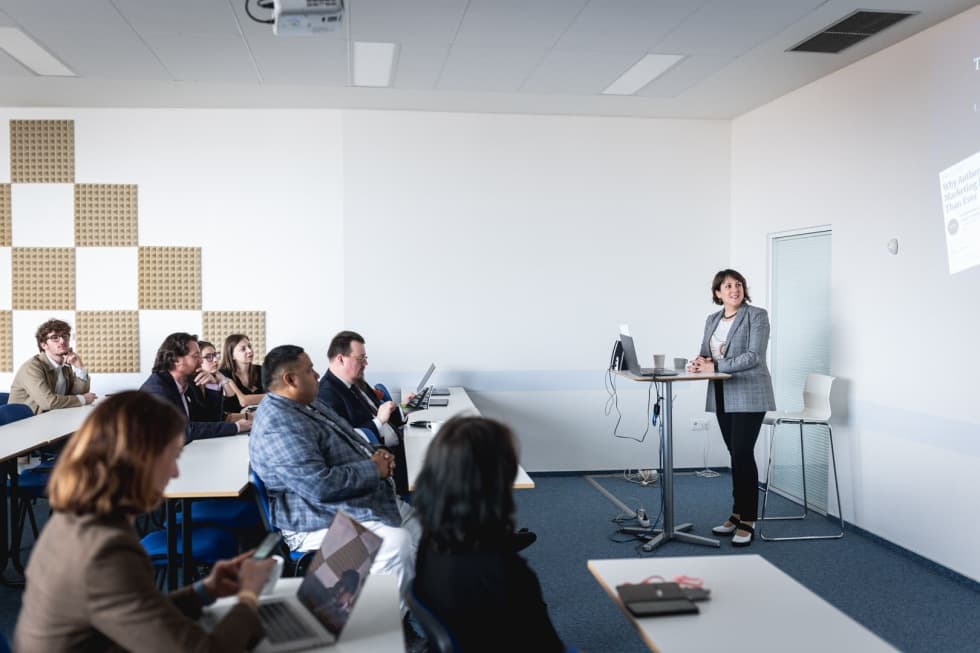 NEWTON's International Team expands global opportunities, partnerships, and academic enrichment. Recap of an exciting year.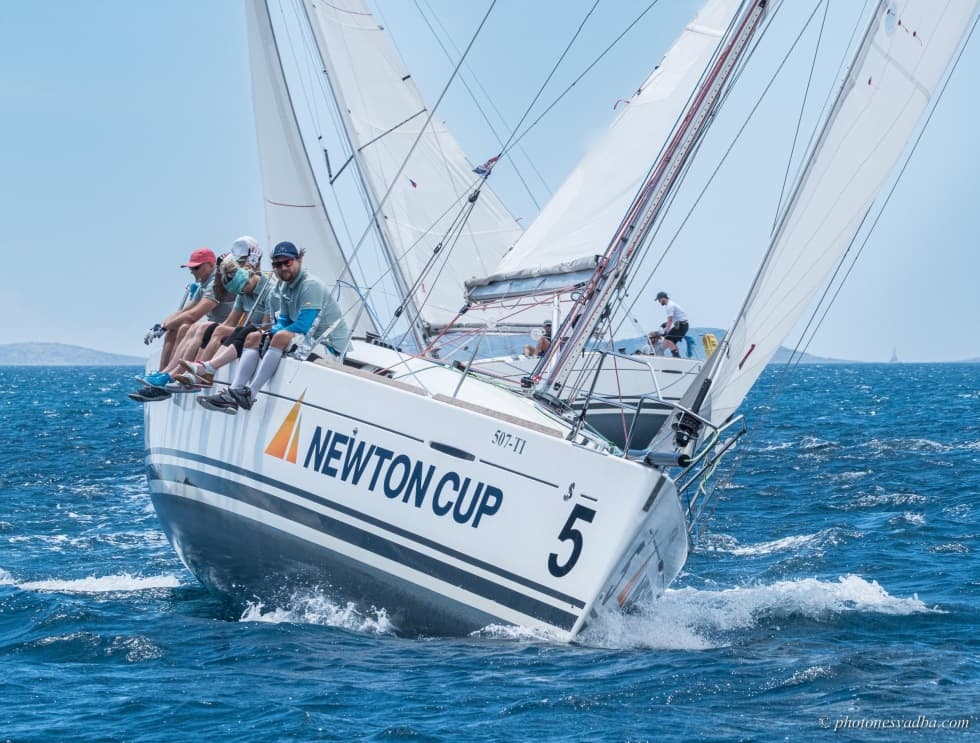 Wind, sea, sun, freedom, faith in one's own abilities and an endless horizon. This is yachting. On NEWTON anyone can become a sailor and gain a lot of unforgettable experiences and valuable experience for personal and professional life. The NEWTON Yacht Club has been operating at NEWTON University for 12 years and the annual NEWTON Cup regatta in Croatia is attended not only by NEWTON students and staff, but also by alumni and friends.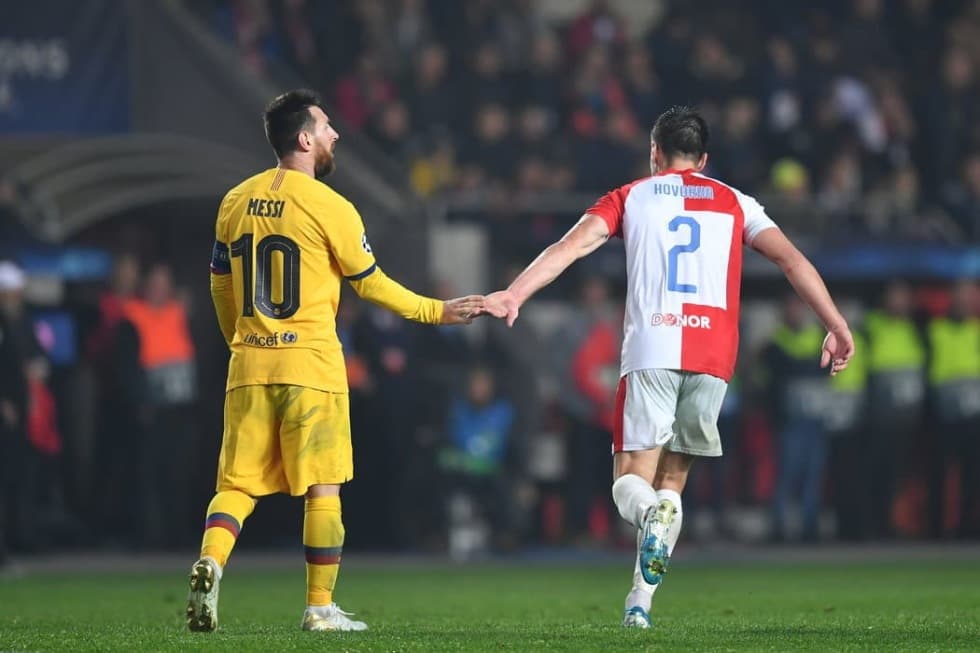 the SK Slavia stopper who won two league titles in the Champions League, the footballer who defended Messi and Lukaku. This is David Hovorka, who is studying for an MSc at NEWTON. Mental Coaching in Sport and Business with Marian Jelinek. Although he had to end his career this year due to serious injuries, he has plenty of plans for the future. He would like to work with youth football and enjoy being in charge of his time. What were his beginnings and what did football bring him?