Cristian Gallardo: The Time is Now for Latin America!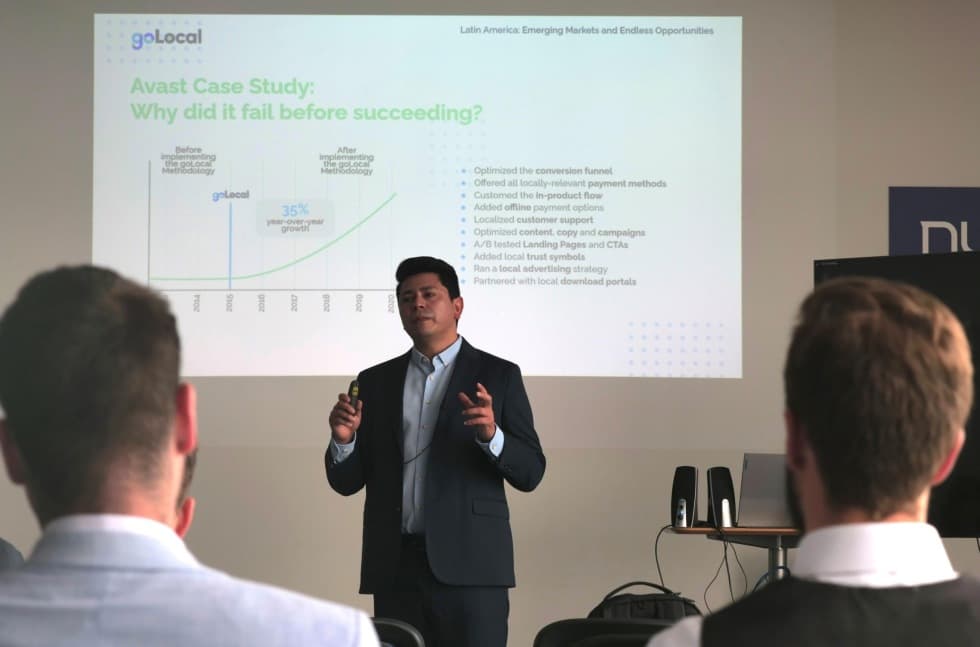 On 10 May, our Prague Campus was buzzing with excitement as we welcomed Cristian Gallardo for a talk on "Latin America: Emerging Markets and Endless Opportunities." Cristian, the Founder and CEO of the 'goLocal' group, shared his vast expertise in assisting companies with international expansion, particularly to the thriving Latin American markets.
The event marked a significant milestone in NEWTON's commitment to global collaboration, as we unveiled our new partnership with the University of Diego Portales in Chile. Starting from the next academic year, NEWTON students will have the opportunity to travel to Chile for an exchange, and discover firsthand what this captivating country has to offer.
Cristian shared insights to help students identify the right strategies to successfully penetrate the Latin American region. With over 30 countries and a population of more than 600 million, Latin America presents a diverse tapestry of opportunities. Cristian emphasised the importance of embracing a local perspective, respecting the complexities of each country, and adapting to their unique business landscapes.
One of the key takeaways was the profound impact of the pandemic, which has accelerated digital transformation and propelled the expansion of online sales marketplaces. This unprecedented digital boom presents a golden opportunity not only for businesses eager to penetrate the Latin American market but also for those seeking a gateway to the US market.
Drawing on his experience, Cristian cited the successful example of Czech software company Socialbakers, which he supported over a decade ago with its strong business development throughout Latin America, laying the groundwork for subsequent entry into the US. SocialBakers is now a unicorn — a company valued at over 1 billion USD.
Cristian highlighted the presence of a number of unicorns in Latin America as evidence of the fertile ground the region offers to ambitious startups. Chile, in particular, was highlighted as a promising market to test the waters due to the significant number of unicorns relative to its population.
Concluding his talk, Cristian encouraged students to seize this opportune moment to approach Latin America, and expressed his willingness to assist those embarking on their entrepreneurial journey in the region with guidance and support.
Karel Novotný, the head of the NEWTON Business Accelerator (NBA) in Brno, also took the opportunity to address the audience, sharing the exciting news that the NBA will offer support in English from the next intake. So, if you were inspired by Cristian's talk and intrigued by the opportunities in Latin America, now is the perfect time to start preparing your pitch!