Podpořit.cz: A group of friends from NEWTON is changing the world around them for the better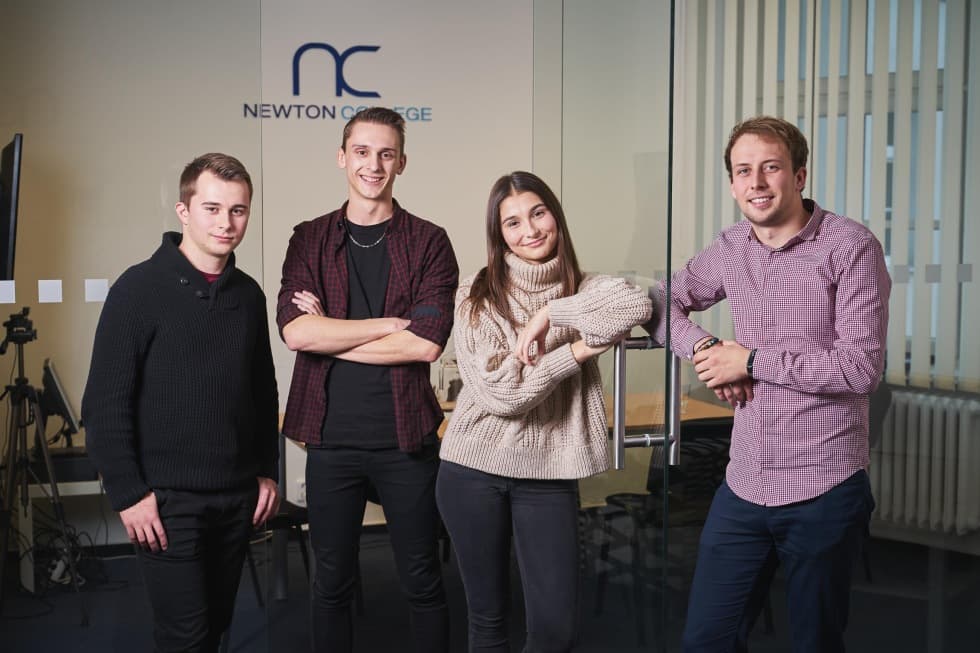 An adventurous trip to the Zoo and the city of Olomouc is waiting for the children of the Fulnek Orphanage this spring. They're heading off to see the giraffes as well as the historic astronomical clock, thanks to the unique project Podpořit.cz and you – the students of NEWTON College who contributed to the wishing tree.
At NEWTON College, the wishing tree is already a pre-Christmas tradition. Every year, the students and educators collect money for a project that is held each time by a different charity organisation.
In 2017, we gave money to the Pink Bubble charitable fundraiser, which was founded by NEWTON graduate Martina Šmuková. Together with her colleagues, she's helping children with cancer.
In 2018, we collected funds for a wheelchair for the intellectually disabled boy Kerim. The entire event was sponsored by the Civic Association LOGO, which is led by our graduate Tomáš Ostrý.
Read the interview with Tomáš about Kerim and LOGO >>
And finally, in 2019, the wishing tree shined under the baton of the current NEWTON College students from the Podpořit.cz organisation. Their main objective is to help people in need – children, seniors, and handicapped individuals. The money from the wishing tree at NEWTON College is being put to use at an orphanage that Podpořit.cz works with.
Make contacts everywhere you go
The heart of the Podpořit.cz team is made up of classmates Kristýna Můčková, Radim Oulehla, Dan Šikling, and Ondra Machač. Right from the beginning, Radim contacted NEWTON College graduate Tomáš Ostrý and his Civic Association LOGO. Tomáš already had plenty of experience in working with non-profits and he helped Radim get the project off the ground and search for people who could provide financial support.
"Through Tomáš I was able to get to Anička Šmídová, who has cerebral palsy and needed CZK 200,000 for a special orthesis that she could use to learn to walk. At Podpořit.cz, we were able to raise CZK 18,000, which we gave to Anička," describes Radim, whom has since been joined by other classmates. By the end of 2019, there were a total of 12 team members.
For Radim and his team, Tomáš Ostrý was a great support while also inspiring them to come up with the idea to join their activities to the NEWTON College wishing tree, which focused on the Loreta Orphanage as part of Podpořit.cz.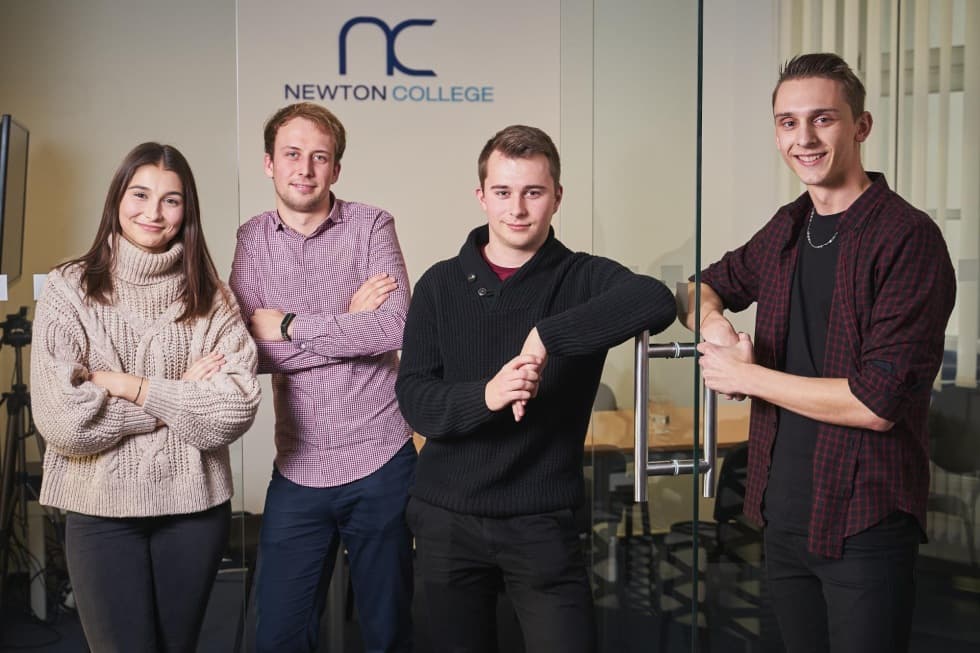 In the beginning, Radim was alone; since then, more friends have joined him. "Everything came together over a beer," laughs Ondra.
Christmas came two weeks early
For Podpořit.cz, joining forces with Loreta was easy – they have a friend on the inside. "Since summer, we've been in contact with the director and we discussed what would make the children the happiest. We came up with a trip to see the beauty of Olomouc as well as to the zoo. And to make sure the children really had a good time, we're creating an entertainment programme for the entire day," describes Kristýna. For her and the rest of the Podpořit.cz team, the whole event is just getting started, as they hand over the money.
The true joy in the children's eyes and their excitement of something new – that's what the group from Podpořit.cz loves to see the most. "We pretty much had Christmas two weeks early. We were inspired to see that, after only a few days, half the money we needed was raised in Brno, and another third in Prague," says Kristýna with enthusiasm.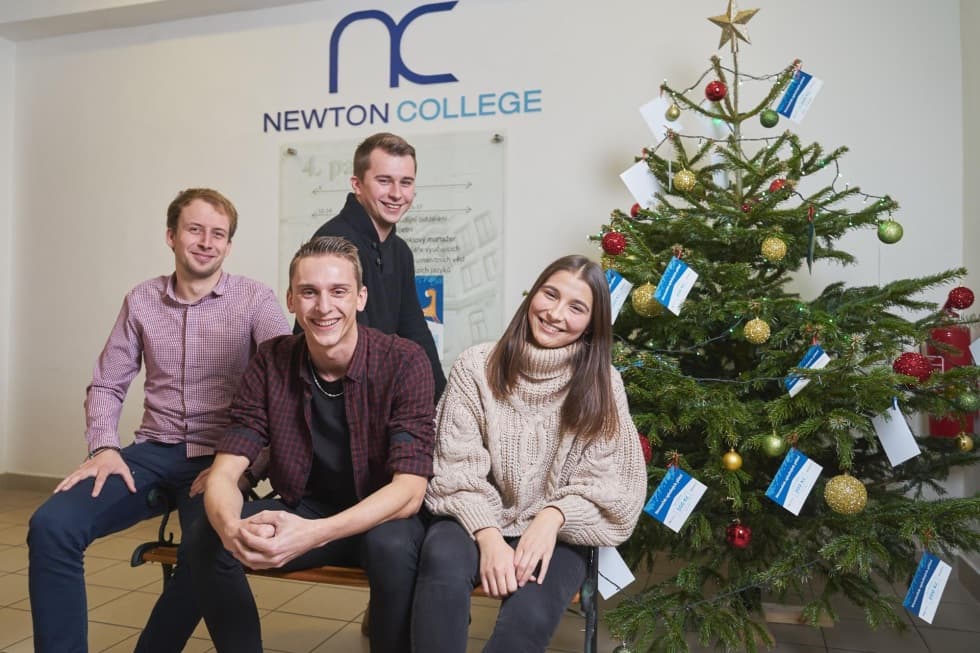 At the wishing tree at NEWTON College in Brno, the vouchers filled up with donors' names faster than lightning. The Podpořit.cz team was beyond happy. (Radim and Kristýna are sitting in the front, Ondra and Dan are in the back, from left to right).
Help out and don't spend any extra money
Off-line events, such as the wishing tree, aren't Podpořit.cz's typical way of working. You'll usually run into them when shopping online. At Podpořit.cz, collections function on the cashback principle, which turns a normal online purchase into a good deed.
In practice, you proceed by searching for a store on Podpořit.cz where you want to buy something and selecting it. For instance, if you're looking for perfume, select Notino.cz where you can make your order and pay the same as always.
Even though you didn't actually pay any extra money, you're contributing to a good cause. The only difference is that you click through to Notino via the Podpořit.cz website.
Check out which e-shops work together with Podpořit.cz >>
The money for the collection is donated by a partner e-shop, so you only pay the price of the order. To ensure everything worked as it should and the money went to a good cause, you can verify on this web page.
"Annually, Czechs spend about CZK 135 billion in online stores. Thanks to the fact that with Podpořit.cz, you aren't spending any extra money, cashback is a great way to help people. However, not everyone who wants to help also needs to purchase things online. This is why we added a transparent account to the website to which people can send any amount they want. This makes us the only portal in the Czech Republic that combines both options. We're a kind of online platform for good," describes Ondra, while adding that donors can easily see on the website whether their money has made it to the Podpořit.cz account without issue.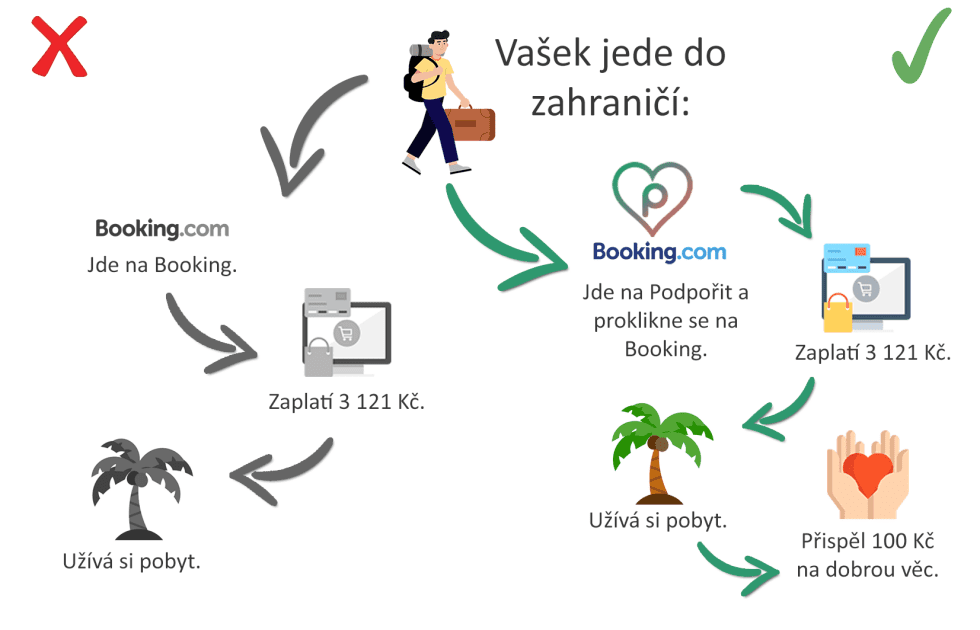 Cashback is a specific method of collecting money chosen by Podpořit.cz. When explaining online how it all works, the use of images comes in handy:
What Podpořit.cz has already accomplished
At Podpořit.cz, they also helped the Olomouc Mobile Hospice Nejste sami (You're Not Alone), where Kristýna's good friend volunteers. "The things the people do in the hospice are unbelievable. Those who haven't experienced it, can't even imagine in it," says Kristýna in earnest. For this reason, together with her team, Kristýna decided they would raise money for a laptop the hospice desperately needs for monitoring patients' health conditions. "We've already bought it and now we're going to give it to them. We want to meet them in person, to get to know the people from the hospice more and see what they're dealing with," describes Kristýna as if this is what she would expect everyone to do.
For now, the final completed project is helping five-year-old Terezka Knappová, who suffers from cerebral palsy and is unable to speak. At Podpořit.cz, we raised over CZK 12,000 for her so she could have special headphones and speech-language pathology lessons. Thanks to this donation, Terezka is able to speak and is doing well in nursery school.
Support your classmates' current collection here.
Podpořit.cz is also helping on social media. Come and join them
You can meet up with the Podpořit.cz team both on Facebook and Instagram. "We have a page on Facebook that provides information about our projects and we also share useful posts about recycling, for instance, so people can get inspired to do something good," describes Dan.
They also have their own Facebook group for Podpořit.cz, where they are planning on letting people vote for the projects they'll work on together with their fans.
Also, be sure to read about how we helped little Kerim in 2018 thanks to the wishing tree. You'll find other inspirational students in an article about T-shirts that remind us of the past.