Autumn will bring hybrid online learning at NEWTON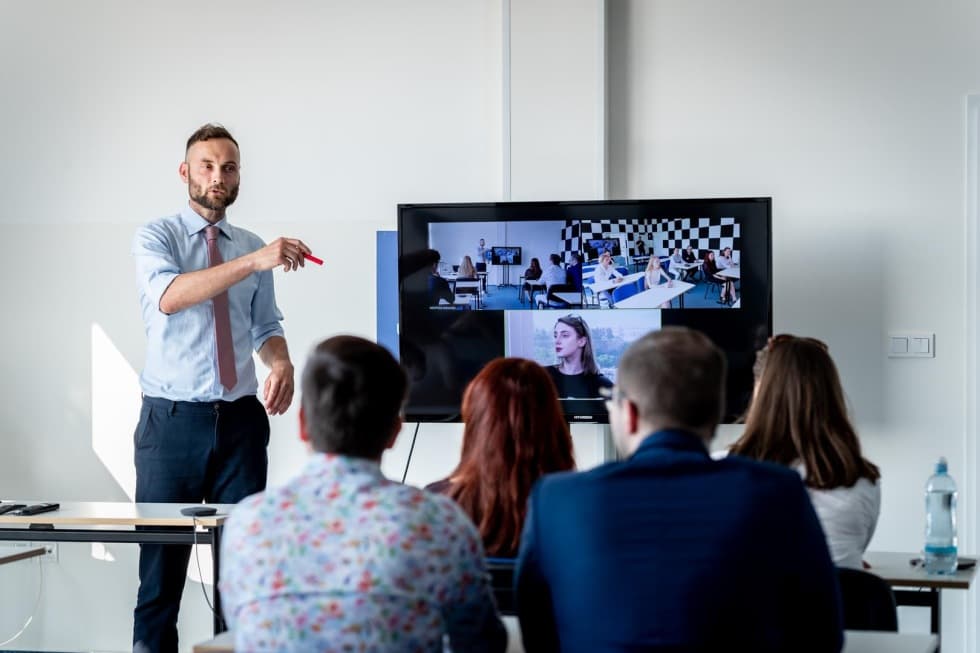 The way we teach at NEWTON has been transformed over the past eighteen months. As the demands of the Covid-19 pandemic forced learning institutions around the world to move their teaching online, NEWTON decided to embrace the need for change by investing in state-of-the-art online learning tools and professional development opportunities for our lecturers to make sure that we could offer an outstanding virtual learning experience to our students. Now, as we begin to look to a future beyond the pandemic, we're retaining the benefits of virtual learning through a flexible and innovative hybrid teaching approach.
At NEWTON, we pride ourselves on our innovative approach to flexible learning. NEWTON students can choose to study online or remotely, from anywhere in the world. And they don't have to make the decision at the start of their programme how they would like to learn: each term they can choose their mode of study, with fees payable on a pro rata basis. In addition, from the autumn term, we're testing a hybrid approach of teaching, in which around half the students will attend classes in person, and the other half will join online.
In the past, online learning had a reputation for being a substandard alternative to in-person instruction, but thanks to the thought and investment we're put into developing our capabilities, our unique hybrid teaching model ensures that our students are able to get the most out of their degrees, wherever they're learning from.
Our key goal has been to make teaching fun, and mentally less exhausting for both teachers and students. On the technical side, we've set up professional studios and hybrid classrooms on campus in both Prague and Brno, while also equipping teachers with professional cameras, lights and microphones for when they need to broadcast from home. The quality of the broadcast is monitored by a technical team to make sure it is consistently improving.
Vice Chancellor Jiří Koleňák explains further: "A huge advantage is that the camera captures the teacher's movement, and there's also a whiteboard for writing and drawing. We can also show pre-recorded sections that explain more complex material to the students. For example, in one lecture we showed interviews with colleagues who are now in Taiwan, and yet it appeared as if we were standing in the same room during the lecture."
We've provided training to all of our teaching staff. They've learned to work with cameras and lighting, as well as to consider how best to communicate information in a broadcasting format. To this end, some of our teachers have also spent time over the summer training with TV presenters. Jiří Koleňák participated in the training, and says, "I was personally taught by the moderating legend Martin Severa, who used to host the news programme Televizní noviny on TV Nova. Mr. Severa taught me how to pace my information delivery in front of the camera, and how to create moments during teaching in which I could take a break, which was useful because online teaching is more demanding than normal teaching."
We've also changed how we hold online seminars, to better facilitate discussion and debate online. This includes having smaller group sizes, and making use of virtual breakout rooms. The lecturer has become more of a facilitator, and we require all cameras and microphones to be on, to enhance communication and engagement.
We've ensured that exams can be taken remotely in a secure way through a sophisticated system called Exam.net. "We use the platform to prepare and carry out tests, and they check for suspicious behavior—for example, if students are not looking at the camera while they're sitting the exam, or if they're opening other tabs on their browser," explains Jiří Koleňák.
Despite the many advantages of virtual learning, we understand that exclusively learning online isn't right for everyone, and has some drawbacks, including a lack of interpersonal contact. This is why we're so passionate about the possibilities of a hybrid teaching model that combines the best of both worlds, offering our students flexibility, and world-class digital resources, while also providing face-to-face learning opportunities for students who choose to attend in person.
Jiří Koleňák adds, "The teachers are doing a great job, and we've done our best to make the class interesting and as close to a face-to-face encounter as possible. The online environment misses some of the non-verbal communication and bits of context, including emotions, which makes it more challenging to inspire passion for a subject, but we know that it can be done."
We're also pleased to be working with the National Accreditation Authority and the Ministry of Education to ensure that all of the benefits of using digital resources are preserved even once the pandemic is behind us. Our participation in developing standards to ensure that digital learning is able to meet existing quality standards for higher education is a key part of our mission to internationalise business education by enabling students from all over the world to join our degree programmes.
Hybrid learning at NEWTON is available for students on both the Czech and English language version of the bachelor's programme. To find out how to apply for the upcoming autumn term, visit our website.